As many of you know the dog flu made it's way into Ohio in October 2017.  There were several confirmed cases and as a result, most reputable boarding and grooming facilities are, and should be, requiring the Bivalent CIV vaccination prior to boarding or grooming your pet.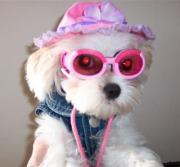 Please visit https://www.dogflu.com for more information about the dog flu.
At VAC we have infection control procedures in place to protect our patients when we suspect a patient may have the flu.  If you suspect your pet may have the flu, please call ahead to schedule an appointment before bringing your pet into the clinic.  This allows us to prepare for your pet's arrival and provide the necessary care your pet needs while still protecting other furry friends that might be here at the same time.
If your dog is a social butterfly at the dog park, goes to doggy daycare, boarding or grooming, we highly recommend vaccinating your dog against the canine influenza.