Columbus veterinary services – delivered with courtesy and respect!
Welcome to Village Animal Clinic!
As a new member of our family, you will find your pet's health and well-being is our top priority. Not only can you expect our full attention to your pets' needs, you can count on it!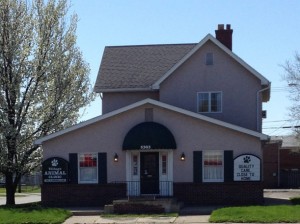 When you arrive for your appointment, you will be greeted by our friendly customer care experts who will weigh your pet and begin the check-in process. You will be escorted into an examination room as soon as we have one available. In most cases, one of our veterinary assistants will start by asking about your pet's medical history, current condition and the reason for your visit, gathering data for the doctor.
To expedite your visit, your pet's registered veterinary technician will collect blood, urine or stool samples for analysis and start laboratory tests promptly so results are available before your appointment is concluded. Dr Brown will be the one to examine your pet, answer your questions, and plan further diagnostics or treatment as necessary. If needed, your RVT will come in to wrap things up, provide you with further educational information, and answer routine wellness and care questions. Our client care specialists will process your payment and schedule any needed follow up.
Please note: Our goal is to see all our clients and patients on time, and although we have contingencies for emergencies, there will be times where the unexpected will create delays. We will ensure these are minimized as much as possible.
We are excited to meet you and your family, both 2 and 4 legged!