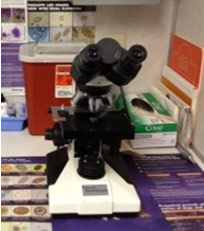 Diagnostic Services
Since our patients are unable to tell us where it hurts, what they were doing, or what they ate immediately prior to becoming sick, we rely heavily on our diagnostics to piece together the puzzle. Only then can we hope to tell you what is wrong and how best to treat it. Since we do not have the luxury of patient to physician communication the way our human counterparts do, the use of diagnostics in human and animal medicine cannot be fairly compared.
In Hospital Laboratory Testing
Our in hospital laboratory allows us to perform many useful point of care diagnostic services while you wait. This allows us to quickly diagnose disease, monitor patient status and provide the optimum care for your pet in fewer office visits. Our in hospital lab equipment includes the following:
HM5 Hematology analyzer – Complete Blood Counts (CBC)
VetScan – Comprehensive blood chemistries to check organ function; electrolyte monitoring; Thyroid hormone level.
Abaxis Veterinary Reference Laboratory (AVRL)
For precision tests we are not able to perform in the office, we partner with Abaxis Veterinary Reference Laboratory where experienced industry leaders in hematology, cytology and pathology help us make accurate, efficient diagnoses for your pet.
Our skilled staff can perform microscopic fecal floatation analysis, rapid heartworm, giardia, parvovirus and feline leukemia/FIV testing all while you wait. We utilize centrifugation and powerful microscopes to allow us to review urine sediment, perform cytology on cells from masses or wounds and also to monitor bacteria from skin and ears to guide our treatment plan.