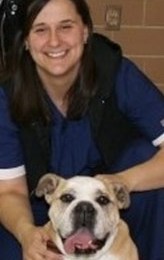 Registered Veterinary Technician
Jo was born and raised in Southampton, England and immigrated to the USA in 1997. She began working with Dr. Brown in 1998 so it was no surprise when The Village Animal Clinic was purchased in 2004, she was recruited to be the office manager and registered veterinary technician.  Jo graduated from Purdue University with a degree in veterinary technology and is currently working toward certification in veterinary practice management.
In 2016 Jo took a position at The Ohio State University College of Veterinary Medicine as a small animal emergency and critical care veterinary technician.  She spends Thursday through Sunday nights tending to emergency patients and the rest of the week remains passionate about your pets and their experience at The Village Animal Clinic.  Jo is currently studying to become a veterinary technician specialist in emergency and critical care.
When she is not tending to the needs of patients, Jo shares her love of animals with husband Derek and daughters Mackenzie, Alyssa, Danielle and Kamryn.
Current furry residents in the Fleming household include playful mix Reese Cup, and cats Dobby, Severus, Albus and Lumos  (yep… shes a Harry Potter nerd too!).  Jo's home is also residence to two guinea pigs, Cain and Abel, Rabbit CiCi and Siberian Hamster Molly…..there really is no room at the Inn!