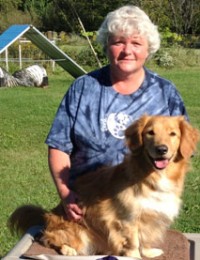 Veterinarian/Owner
Dr. Brown purchased Village Animal Clinic in 2004, fulfilling the quality veterinary needs of pet owners in the New Rome, West Columbus, Galloway, Grove City and Hilliard areas.
Since graduating from The Ohio State University in 1988 with a Doctor of Veterinary Medicine (DVM) and Masters degree in Zoology she has worked in emergency medicine and mixed animal practices. Dr Brown has special interest in companion animal medicine, pleasure horses, exotic pocket pets, birds, and small ruminant medicine. She holds memberships in the American Veterinary Medical Association (AVMA), the Ohio Veterinary Medical Association (OVMA), the Association of Aviary Veterinarians (AAV), the American Dairy Goat Association, and Nigerian Dwarf Goat Association.
Those who know her well know Dr. Brown never truly leaves the Clinic, but she spends spare time with husband Kurt, and the resident animals of her Grove City farm.  Her daughter Amie currently works our front desk as a customer service associate – the resemblance is unmistakable! Dr Brown enjoys gardening and participating in other animal-centric leisure activities like agility with her dogs Tucker (the canine face of VAC) and Gwyndolyn, western horse dressage, dairy goat farming, and sled-dog racing.
The Brown farm is home to a colorful collection of creatures, including dogs Tucker and Gwyndolyn; cat Pippin; goats Irish, Eva, Frank, Snazzy, Star, Clancy and Ceili; horses Stormy, Razzleberry, Magnum, Willie and Nugget; llamas Supermodel and Trixie; Shetland sheep Kahlua, Buttercup, Rudy and Francie; and many peafowl, guineafowl & chickens.