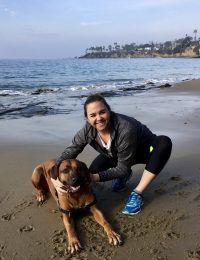 Annalisa joined our team in 2017 as a veterinary assistant. In August 2018,  she enters her Junior year at The Ohio State University's College of Veterinary Medicine.
During the school year you will likely see Annalisa on Saturdays and an occasional Tuesday.  Although still exploring many different areas of veterinary medicine she especially enjoys working in the field of emergency medicine. Working at the Village Animal Clinic has allowed Annalisa to continue getting hands on experience as well as apply concepts she's learned in lectures to real-life situations.
She is very happy to be part of the VAC family and thoroughly enjoys taking care of your pet's!
Outside of school, Annalisa likes to spend time outdoors – hiking is one of her favorite hobbies. She also loves playing guitar and spending time with her adorable tuxedo cat named Sky.