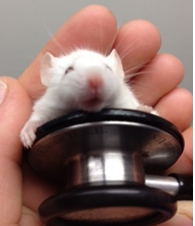 At Village Animal Clinic we believe all patients under general anesthesia should be monitored continually by a Registered Veterinary Technician trained to understand how anesthetic drugs work, how to properly assess anesthetic depth, and how to respond to anesthetic emergencies.
In addition to the monitoring skills of our Registered Veterinary Technician, we also utilize electronic monitoring equipment to run baseline ECG's for rate and complex analysis; pulse-oximetry (oxygen saturation); Respiratory rate; blood pressure and temperature.   At no time do we rely solely on electronic monitoring equipment to care for your pet.  Your pet's vital signs will always be monitored closely by both electronic and manual methods optimizing patient safety and care.
Please feel free to ask about our patient monitoring protocol or any concerns you might have about your pet's procedure. We'd be happy to discuss these matters in more detail.