According to an article by Ahna Brutlag, DVM, published in veterinary publication Firstline, almost half of the calls received at Pet Poison Helpline involve human medications—both over-the-counter and prescription. Sometimes dogs chew into pill bottles or well intentioned pet owners accidentally mix up packages and give their pets a human medication. However pet poisonings from human medications happen, they can be serious.
NSAIDs (e.g., ibuprofen, naproxen)
Acetaminophen
Antidepressants (e.g., Effexor, Cymbalta, Prozac, Lexapro)
ADD and ADHD medications (e.g., Concerta, Adderall, Ritalin)
Benzodiazepines and sleep aids (e.g., Xanax, Klonopin, Ambien, Lunesta)
Birth control (e.g., estrogen, estradiol, progesterone)
ACE Inhibitors (e.g., Zestril, Altace)
Beta-blockers (e.g., Tenormin, Toprol, Coreg)
Thyroid hormones (e.g., Armour desiccated thyroid, Synthroid)
Cholesterol lowering agents (e.g., Lipitor, Zocor, Crestor)
About Pet Poison Helpline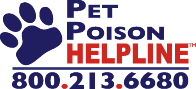 Pet Poison Helpline is a service available 24 hours a day, seven days a week for pet owners, veterinarians and veterinary technicians that require assistance treating a potentially poisoned pet. Staff can provide treatment advice for poisoning cases of all species, including dogs, cats, birds, small mammals, large animals and exotic species. As the most cost-effective option for animal poison control care, Pet Poison Helpline's fee of $35 per incident includes follow-up consultation for the duration of the poison case. Pet Poison Helpline is available in North America by calling 800-213-6680. Additional information can be found online at www.petpoisonhelpline.com.