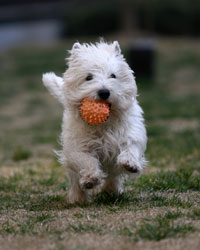 Over the weekend, the dog park at Wheeler Memorial Park was closed due to a report that a dog had become ill and died after visiting.  As the case is still under investigation, the cause of death has yet to be determined.  Although the dog park remains closed until permission is granted from Public Health, we thought we would give you a few tips to stay safe while visiting ANY dog park.
To begin, you may ask yourself if taking your pooch to the park is right for them.  We most definitely encourage you to make sure your pet gets plenty of exercise, but that doesn't necessarily have to come in the form of a dog park.  If your pet is naturally shy/easily intimidated by other dogs, the park will probably be a highly stressful and negative experience for them.
Additionally, how old is your dog?  Puppies that have not received all of their immunizations are highly susceptible to picking up a multitude of diseases.  This also goes for any pooch that is not current on their vaccinations.  Older dogs, while vaccinated, may have a harder time fighting off any infection than a younger dog would.
If your pet is already sick, clearly the park is not the place for them.  Females in heat should also avoid going, as well as intact males as they may experience social problems.  All of these factors must be considered before even stepping off your front porch!
So, your pooch is up to date on all his vaccines, thinks everyone is his best friend, and can follow your commands…time to head to the park?  Not quite!  It may be beneficial to scout out the park before taking your pal with you.  This allows you to make sure you are comfortable with the park and their rules.  Is it clean and secure?  Does it have a clean-up station and access to water?  It also gives you time to check in on the other furry friends your dog may encounter and best times to visit.
With leash in hand, and your 4-legged pal blazing the trail, you head to the park.  While you are there it's important to keep an eye on him at all times.  In doing so, you can ward off any unwanted play before it gets out of hand.  Be on the lookout for any "left-behind" toys, treats, or detritus they may find on the ground.  Do not allow them to ingest it.  In addition, do not allow your pet to accept treats from anyone except you.
Finally, you know your pet best.  Your goal is for them to have a tail-waggin' good time.  If at any point you notice your pet is not having fun, take them home.  It's better to end playtime and have a good experience overall.
For more excellent tips visit:  https://www.aspca.org/pet-care/virtual-pet-behaviorist/dog-behavior/dog-parks.
-the team at VAC-