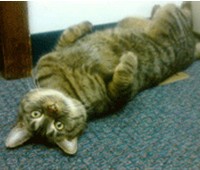 Bad Cat found us in 2005 as a tiny kitten that we were planning on adopting out.  It was a good plan…but lacked something in the execution…thus B.C has become the feline face of Village Animal Clinic and enjoys the role of director of daily operations.
B.C carefully oversees employees as part of the clinic's human resources audit; he tolerates no funny business as he enjoys curling up on a desk chair, flaunting his belly dangle, blocking the heat register so he's nice and toasty (and we are freezing cold!), and eating any unattended morsels.
Due to his devious demeanor, BC is a poster cat for the Invisible Fence which keeps him safe behind "closed doors" while allowing him the freedom to roam the back half of the clinic and perform his daily duties.