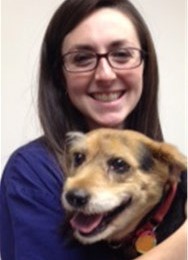 Ashley joined the Village Animal Clinic team in 2006 and proved to be a top notch assistant with exceptional organizational skills.  Over the years, the Ankney household has seen many changes including the birth of twin boy's Brendan & Carson in 2008 and daughter Jocelyn in 2012.
Ashley and husband Brad share their home with a chocolate and vanilla mixed breed named Addie, as well as 3 hermit crabs:  (curious) George, Herman, & Princess Sofia.
Though Ashley is enjoying spending most of her time raising her young family, we are glad she missed us so much she just couldn't leave us entirely! Now Ash spends a few hours each week at the clinic to help us keep running smoothly.